"Building the global circular economy: Opportunities for Canada-EU leadership and cooperation"
23.03.2022


---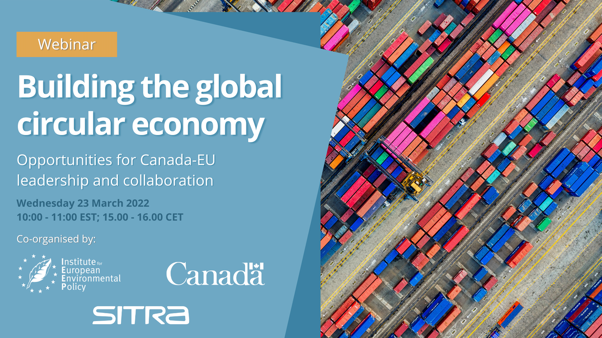 Dear CanCham Members and Friends,
The Mission of Canada to the EU, the Institute for European Environmental Policy (IEEP) and the Finnish Innovation Fund Sitra are pleased to invite you to attend our upcoming event "Building the global circular economy: Opportunities for Canada-EU leadership and cooperation" which takes place 23 March 2022 from 10:00-11:00 EST / 15:00-16:00 CET.
About this event: Building a more circular economy is key to sustainable growth and addressing challenges like climate change. Uptake of the circular economy is increasing worldwide, and cooperation on an international level is key to unlocking the benefits of scale tied to a global circular economy.
Canada and the EU benefit from a strong partnership on environmental cooperation, enhanced through the Canada-EU Strategic Partnership Agreement (SPA) and the Canada-EU Comprehensive Economic and Trade Agreement (CETA). This relationship along with Canada and the EU's shared commitment to ambitious environment and climate action provides an opportunity for closer cooperation on the implementation of circular economy policies and practices.
This event aims to highlight existing joint efforts between Canada and the EU to foster circular economy approaches as well as opportunities to further build global leadership and collaboration in this area.
For more information, please visit our event website.
We look forward to your attendance!
Best wishes on behalf of the Mission of Canada to the EU, Sitra and IEEP,
Eline Blot
---
Back